Celebrating Dolphin Swimming's 20th Anniversary !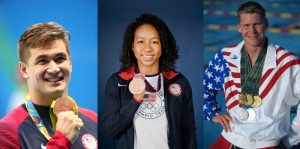 Dream it. Believe it. BREAKout!
features with Olympians Josh Davis, Nathan Adrian & Lia Neal
Sign up for the Mutual of Omaha breakout! Swim Clinic with 3x Olympians
A total-person approach to swimming, a breakout! Swim Clinic can
help you bust bad habits, build new skills and uncover hidden talent.
Event Information:
Date: January 27, 2018  (revision date)
The Boys' Club of New York – Abbe House
133-01 41st Road, Flushing, NY 11355
Every participant:
✘ Learns champion performance techniques on all four strokes
(in-water and dry-land group instruction)
✘ Understands how the body, mind and heart affect swimming
✘ Trains with the world's top swimmers
✘ Asks questions, gets autographs and photos
✘ Receives a breakout! T-shirt, poster, DVDs and other souvenirs
EVENT FLYER For More Details ( please click )
(1) Registration Forms for Dolphin's students  (by mail)
(2) Registration Forms for Non-Dolphin's swimmers  (by mail)
(3) Online Registration & Pay by Credit Card  (additional convenient fee will be applied to each registrant)
Standard Price: $165 per registrant
There is an $10 convenient fee will be applied to each registrant who signs up and pay online.
Limited Space. First Come First Serve. Signup now !
All sales are final and no refund after completed registration.